How to Submit Your Work for Consideration
You can only submit a work through our
Submission Manager
. Please read carefully the guidelines below and choose the appropriate category before submitting your work.
Copyright
Myths Inscribed acquires non-exclusive English-language Internet rights as well as perpetual archival rights. You are responsible for knowing whether or not the rights you are offering are available to be offered in the case of previously published work. Please allow one month for response time; if you haven't heard back by then, query the relevant editor. At the moment, we do not offer any pay.
Categories
We're looking for works for three main categories:
Fiction
Original works of fantasy fiction. The definition of "fantasy" is taken broadly, but anything that would fall exclusively into another genre, such as science fiction or horror, will not be considered. Neither will fan fiction or works that otherwise involve copyrighted characters or settings. Gratuitous violence, sexual content and/or swearing do not impress us.
Non-Fiction
Articles, reviews and other fantasy-related non-fiction content are presently assigned. If you are interested in contributing in this area, send a "Query: Non-Fiction" e-mail.
Poetry
Poems of up to 40 lines will be considered. Submit no more than three poems at a time. Each poem should be a separate attachment.
Formatting and File Guidelines
You can submit your work below. The e-mail header should begin with either "Fiction," "Non-Fiction," "Poetry" or "Art," so that it can be easily noticed by the appropriate editors, followed by the title of the submission. Queries should place the word "Query" in front of the above. Note that you will need to have or create a Submittable account in order to submit to the magazine.
The body of the message (the "cover letter") should begin with the title, word count, the name you wish it to appear under (if a pen name, include your real name as well—and be sure to let us know which is which), your e-mail address, and the date. Previously published works will be considered, as will simultaneous submissions so long as you have the courtesy to inform us immediately if the work gets accepted elsewhere; in either case, mention this. If it is a resubmission of an item that has been returned for revision, mention this. Unless you're querying about a longer work, don't bother introducing or summarizing: your contribution will have to stand on its own for our readers, so it ought to be able to for us as well.
Include a brief bio (50 words or fewer) in a separate paragraph in the body of your e-mail.
The submission itself should be an attachment in .doc, .docx, or .rtf format. It should be in Times New Roman, with one space after all punctuation marks, no justification, and one blank line between each paragraph. All emphasis within the text should be in italics only; underlining and bold should not be used. Section/chapter breaks, if any, should be marked with "***" on separate lines between the sections. Texts with integrated art/graphics will be considered; please indicate in your cover letter if this is the case.
Spell-check and proofread your work—in that order—prior to submitting it. We are willing to correct minor errors, as long as there aren't too many of them. Slovenliness is the swiftest and surest route to rejection.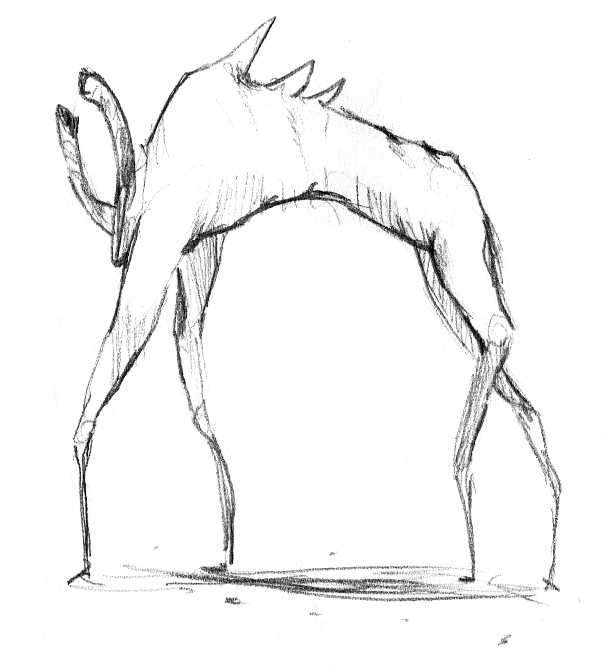 We're about to make an addition to our magazine, an exclusive section where you can Share Your World with us! Show the most fascinating creatures, locations, objects or vehicles to the world, in pictures.
How to Submit Artwork for Consideration
You can only submit a work through our Submission Manager. Please read carefully the guidelines below regarding the format of the images—as it is vital that you submit images with a high enough resolution.
Submit each piece of art separately. Multiple entries must be uploaded in multiple, different submission forms. If those entries are linked somehow, please inform us on the description.
All entries must be accompanied by a description of the subject. If you are submitting a work for the Share Your World section, you must explain in few words what the depicted subject, may it be a creature, an object or a location, is and how it relates to your world. For examples, please, refer to the Artworks section.
Categories
We're looking for works for two main categories:
Cover Art
Original works of fantasy, preferentially connected to stories published on the said issue. We have limited need for stand-alone artwork, but we are willing to look at it and see if we can fit it in somewhere.
Share Your World
The newest addition to the Myths Inscribed magazine, featuring ideas that could have come straight out of an artbook! In this exclusive section we'll share with the world artwork that depicts the most interesting creatures, objects, vehicles or locations of original worlds. A single subject is featured each issue, usually in a single artwork. It may happen you have more of one piece on the subject, in that case you can send them accompanied by a note and we'll see if we can fit some of them together in a page spread. It's crucial that you write short description on the subject (up to 200 words).
What if I do get in?
You'll be informed by email if your work has been accepted for publication in the next issue.
Copyright
You are free to submit
personal or professional
work as long you are the copyright holder or have clearance from your client. You are important for us! To make sure our contributors feel safe and comfortable here, we require everyone to agree to and follow these terms.
You retain all the rights in, and are solely responsible for, the works you have submitted to Myths Inscribed, and are representing and warranting to Myths Inscribed that the works you submit are owned or duly licensed by you. By submitting a work to Myths Inscribed, you grant Myths Inscribed the right to use the work solely for the purposes of operating, providing and using the Services; that is, featuring it on our downloadable versions; online on Myths Inscribed or Myths Scribes; and displaying it on external sites exclusively to promote the Myths Inscribed ezine, the Myths Scribes community or your own name. Myths Inscribed does not claim ownership rights of any work that you have submitted, may it be featured on one of our issues or not.
We reserve the right to remove or modify the work for any reason, including works that we believe violates our Terms or our policies.
If you believe our Services are hosting content that infringes your copyright, please let us know by submitting a notice ("Notice") to Myths Inscribed containing the following:
Identify the copyrighted work(s) that you claim has been infringed, and provide the location (URL) where the infringing material resides on our Services.
Provide your contact information including email address.
Include both of the following statements in the body of the Notice:

"I hereby state that I have a good faith belief that the disputed use of the copyrighted material or reference or link to such material is not authorized by the copyright owner, its agent, or the law (e.g., as a fair use)."
"I hereby state that the information in this Notice is accurate and, under penalty of perjury, that I am the owner, or authorized to act on behalf of the owner, of the copyright or of an exclusive right under the copyright that is allegedly infringed."

Provide your full legal name and your electronic or physical signature.
Any additional detail you may believe relevant.
You should use our Contact form to deliver this Notice.
Image Size
The image dimensions should be as large as you can possibly render. Do not send a low-resolution placeholder and ask us to get back to you, as we won't.
A guideline is 1240 pixels wide and 1754 high (cover art), 1240 pixels wide and/or 1754 high (single page) or 1754 wide and/or 1240 pixels (landscape spread). Your image aspect ratio and layout will dictate the final resolution. These are given as guidelines. To be safe, render images that are larger than these specified.
Do not upsample your images to achieve higher resolution. If you cannot reach the desired full-page resolution, just send what you have in the best quality possible and we'll see how to fit it in our layout.
Please, refer to the Image Preparation item for more details on how prepare your image to send us.
Image Preparation
Here are some general notes that may help you improve the quality of your images for issues.
You should feel free to "hand edit" your images as much as you like. 3D renders should be viewed as if they were raw photographs—they should be hand edited, colour corrected, sharpened, and edited to improve their quality as much as you can.
Monitor gamma and colour settings vary considerably. We will be reviewing all images on a standard system that is representative of most computer systems. You should do calibrate your monitor if you can, to make sure the image you're viewing is a close representation to the image the majority of the users will see.
Your image must be in RGB. Do not assign color profiles to it, for most browsers are unable to read this information and will render your work in RGB/Monitor, causing color shifts in the final output. Do not over-sharpen your image and avoid providing images optimized for print. Concentrate on providing images that look excellent on screen.
Send your image in the the best quality possible, avoid sending a compressed jpg. Your image is likely to get compressed both in the downloadable and the online versions, but we'll be careful to preserve its quality. If you're sending a gif or png you can reduce the file size before sending by using the PngOptimizer tool with no impact on its quality.